Art Inspired Me to Beat My Flying Fear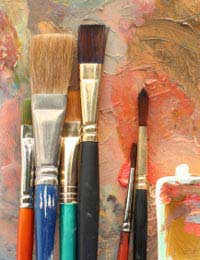 Although I had been an artist for many years, painting abstract images using oils on canvas, I had always thought of myself as an amateur. That is, until I got my big break.
Abstract Art
I created a collection of 24 pieces, on the theme of 'evolution of life'. It was a subject that fascinated me, so I decided to build a collection of work around that topic. All my friends and art associates thought the paintings were the best I had done and they all encouraged me to pitch them to art galleries. So with nothing to lose, I photographed each piece and sent emails to about 30 art galleries at home and abroad.
About four weeks later, and after numerous rejections, I received a message from a gallery in New York. I danced and jumped around the room for about ten minutes after reading the mail. I had been invited to contact them for a discussion about my work.
Joy and Despair
A twenty minute phone call with the art director of the gallery secured my place – they accepted all 24 pieces for an exhibition. I could not believe my luck. For ten years I had been selling the odd painting to friends and family and occasionally to some of my art contacts, but nothing like this had happened before. Now, I had just secured an exhibition in New York! And then it hit me – the gallery wanted me to attend the opening of the exhibition. I had to fly across the Atlantic.
The last time I had been in an aircraft was 21 years ago. It was a short flight from London to Paris, but we hit some unexpected turbulence after take-off and, from that point on, I had experienced a terrible journey. I had felt nauseous, my head ached and, on arrival in Paris, I vowed never to fly again. In fact, I took the ferry back to England! That initial bad experience grew into an insurmountable fear. At the mere thought of sitting on a plane, my heart would race and I would feel clammy and quite uncomfortable.
So, 21 years after that awful journey, how was I to overcome my fear? I had to do it. I had to attend the opening of my exhibition. But London to New York is not exactly a short journey.
A Possible Solution
I talked to the airline and, to be quite honest, they weren't too helpful. My GP was equally uninterested, suggesting that I try some over-the-counter herbal relaxants. At a push, he said that he might be prepared to prescribe a mild sedative, but I could tell that he wasn't really keen. Truth be told, neither was I. Ok, my dream had come true, but I didn't really want to rely on drugs to get me across the water.
A friend suggested hypnotherapy, claiming that self-hypnosis can help to relieve tension. Numerous search engines later, I decided that there may be something to the self-hypnosis thing. I contacted a local practitioner, who was registered with a national hypnotherapy organisation.
My First Real Test
I enrolled on a six-session programme, each one lasting 45 minutes. At the end of the final session my therapist told me that I was ready for my first test – book myself a short flight from London to Manchester. I have some relations in Manchester, so I decided to take up the challenge and book the travel. I had a great weekend. Nervous beforehand - yes. Apprehensive – certainly. But really, the flight went very well. I didn't eat or drink during the flight. I didn't read, nor did I listen to music. In fact, I just sat staring at the back of the seat in front – for the entire journey. But as I stepped into Terminal One, for the first time in a very long time, I realised that it might be possible for me to beat the fear.
Two more sessions with my hypnotherapist followed my epic journey to Manchester. Elaine, my therapist, explained that hypnotherapy wasn't a cure for a fear of flying, nor was it a trance-induced state of mind. It was simply a method of self-relaxation, to be used several hours before leaving for the journey, and during the journey itself.
And the Result?
How did I get on? I sold eight paintings in New York, and received an invitation to present work at a major US art fair. And yes, I did attend the opening of my exhibition, after travelling in a 747 across the 'pond'. Actually, the fear was much worse than the actual trip – I even eat a light meal and had two glasses of wine onboard.
You might also like...