Flying Alone With Children: How to Handle Turbulence Fear?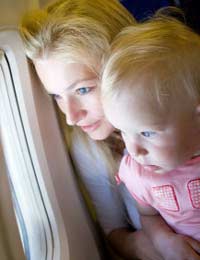 Q.In a few weeks I will be flying by myself from Italy to London with my two children (3 months and 2 years). I am extremely anxious and wondering how I will cope with two small children and my fear.
My biggest fear (besides crashing) is turbulence. How does the plane manage to stay in the air through severe turbulence? Is it really safe to fly through turbulence?
(A.H, 7 April 2009)

A.
Travelling by plane with children can be an enjoyable, and stressful, experience for any parent or guardian. Besides worrying about keeping children entertained throughout the duration of the trip there are other considerations to take into account – one of them being, coping with air turbulence.
What is Turbulence?
Turbulence is a natural occurrence. The earth's rotation causes air to jet stream and turbulence is created when a friction of movement occurs. Turbulence occurs on every flight, although generally the amount experienced is very small. Severe weather changes can increase the amount of turbulence experienced, although it is rarely hazardous.
Keeping Children Informed
It makes no difference if it is the first flight your child is taking or they are seasoned travellers. Talking to your child about matters concerning safety when travelling is important. If they are young explain the safety procedures, the cabin crew demonstrate, at a level that they will be able to understand. Also explain the importance of sitting in their seat and wearing a seat belt throughout the flight.
If turbulence is expected do alert your child in a way that maintains calm and understanding, even if you are not a particularly good traveller yourself. Explaining you are an anxious traveller, to a member of the crew when you first board your flight, will enable them to provide the necessary level of assistance most suitable to your needs, especially if you are travelling with very young children.
Reducing Stress
Travelling with children presents many potentially stressful situations. Your child may be overly excited or easily bored so ensuring you pack a few items to distract or entertain them will help reduce your stress levels during the flight. It is also a good idea to take along a few favourite snacks and treats for them to enjoy. Packing an essential oil balm, which you can instantly apply to pulse points, will also help you relax and unwind.
Reducing Risk
If the flight crew expect turbulence they will alert passengers by requesting that seat belts are fastened and that loose items are safely stored away. From time to time however, turbulence may occur without warning so it is worth eliminating potential harm by taking a few preventative safety measures.
Staying alert to passenger safety announcements, and following the instructions of the cabin crew, will minimise danger. Wearing your seat belt throughout the duration of your flight will also mean you remain comfortable if turbulence strikes without any warning.
You might also like...