Doors to Automatic: What is That all About?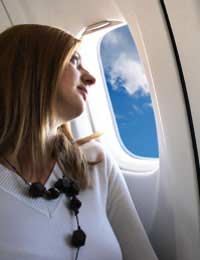 How many times have you heard the expression, 'doors to automatic and cross-check?' Films, television programmes and comedy sketches have all used this simple term, and of course, so do commercial pilots. But what does it really mean?
Firstly, let's start with doors. Many people have a fear that aircraft doors will suddenly burst open during flight. The good news is that this is impossible. Even the strongest human being would never be capable of exerting enough force to open an in-flight door.
Plug Doors
Have you ever noticed how the cabin crew open doors after landing? They pull them inside the cabin first and then they push the doors outwards. This type of door is called a plug-type door. Plug doors sit on recesses built into the fuselage, and the key aspect of their design is that they cannot be pushed outwards without first coming into the cabin. The reason for this method of opening is that doors become impossible to open during flight. Pressure inside the cabin, needed to provide a safe and comfortable environment, forces the doors against their recesses, making them impossible to open during normal flight. To open a door in-flight, a person would need to be super-strong to pull the door against the internal pressure of the cabin.
So even if a passenger accidentally falls against the door opening levers, perhaps while waiting for the toilet to become vacant, the door will not open.
Emergency Slides
Aviation law around the world requires commercial aircraft to be fitted with emergency shutes, or slides. These are essential for quick and safe evacuation of the aircraft if it lands in an emergency. Some smaller aircraft don't require slides because the doors are low enough to allow passengers to jump out safely even without steps. However, most commercial aircraft are fitted with slides, and often these double as life-rafts. Slides are packed into a small space and fitted inside the doors of aircraft. They operate automatically whenever the door is opened, but only if the doors have been 'armed' first. Of course, no one wants slides to activate every time the doors are opened, so small devices, controlled by door levers, are fitted that disarm the deployment mechanism when the aircraft is on the ground.
Doors to Automatic and Cross-Check
When pilots are sure that all is well for take-off, they instruct the cabin crew to 'arm' the doors, which simply means they put levels in place that will activate the slide pack automatically if the door is opened. During taxiing out to the runway, pilots will call for 'doors to automatic and cross-check'. This is a prompt for cabin crew to engage the slide packs in the doors and for a second crew member to check one other door to ensure it has been set properly. Crew members contact the pilot to confirm doors have been activated and that a cross-check has been performed. This communication from the cabin to the pilots is an essential part of the pre take-off procedure that is always carried out.
In the highly unlikely event of an emergency landing, doors would be quickly opened by the crew and the slides would automatically deploy and inflate. Passengers move quickly to the exits and jump onto the slides.
Fear Free Flying is sponsored by Purely Energy, who have funded a lot of our content. If you are looking for a low cost business energy supplier, take a look at their website.
FEAR FREE FLYING IS FOR SALE.
This website is for sale [more info].
You might also like...
Very good I've always wondered what Doors to automatic and cross check means
Jam
- 11-Jan-17 @ 9:20 PM