Fear of Flying in Children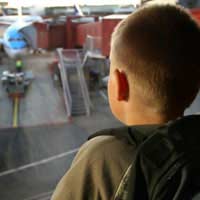 Although a fear of flying is a lot less frequent in children there are some minors who can develop aerophobia for a number of different reasons.
Learned Behaviours
Being the most obvious reason, children can learn to fear flying and associated components from their parents. Parents and carers who display anxiety or are overly worried about flying can easily pass this trait on to their young.
Although the child may not understand why the fear is there or be able to explain it very well, they may still show anxiety as they believe this to be 'normal' behaviour.
If flying is a regular part of life for the child, the emotions and reactions seen in the parents or accompanying travellers can have a resounding effect on the child, and as they cannot and do not communicate as effectively or realise and understand the emotions and processes they are enduring, flying can prove to be a very draining and daunting experience for them.Parents and careers should try very hard to either cover their own feelings, or more importantly find a treatment that will help them overcome or cope with the pressures of flying and aerophobia.
Modern Families
For those children whose parents live apart and flights are taken to visit either parent, the actual flight and experience of flying can be a very emotional time and one that they come to dread and fear for a variety of different reasons. Perhaps the thought of leaving one parent behind, or going to see the other causes deep rooted problems surrounding issues of attachment and betrayal; this is particularly poignant if the parents are not amicable with each other and the child can detect animosity.
Past Experiences
Like adults, a child may have endured a particularly traumatising flight in the past and may have bad memories of this experience. Very young minds may not remember the exact details of the flight, but will have a negative association between flying and anxiety. As time progresses, these memories, coupled with vivid imaginations can lead to distorted memories or images surrounding flying, and may be recalled as the actual event.
Media Images
Children do not usually read newspapers, but they can be very aware of the pictures that accompany a news story. Vivid pictures depicting plane crashes, terrorism or even war images can be banked in a child's memory and remembered when talking about flying or indeed when about to take a flight.
The same can be said of films; many modern films spend a lot of time and money portraying air disasters and can appear extremely real. Parents should always be aware of what types of media the children are being exposed to and always reassure them of the facts and statistics of such events, using language that is appropriate to their age group, answering questions as honestly but without overly dramatising the facts that might scare the child.
Although children are not as often affected by aerophobia, there are still some that suffer from anxiety surrounding issues of flights and aeroplanes; the reasons for their fears may come from a variety of sources.
You might also like...