Fear of Flying Components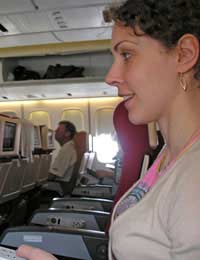 There are many factors that can affect the anxiety levels experienced by a nervous flyer or even in fact, be the reason for their phobia in the first instance. These issues are the components of flying that many travellers find irritating and tiresome.
Heights
A fear of heights is known as acrophobia and affects large numbers of people. The sufferers of this condition experience very high levels of anxiety or even panic and the reactions to this panic can be devastating. Extreme reactions of throwing themselves from the height have been seen in those unable to cope with their fear. Acrophobics often have a dysfunction balance mechanism and can suffer from symptoms such as dizziness, instability, increased heart rate, feeling faint and muscular tension. Treatment is normally through gentle but progressive exposure therapy causing the sufferer to confront their fear directly.
For those with aerophobia, the feeling of being several thousand feet in the air with no support can be very overwhelming and trigger an attack.
Crowded Spaces
Often termed as agoraphobia, though many experts disagree with it coming under this umbrella, this fear can be found in many people who find crowds unbearable and infuriating. It causes people to feel very unsafe and unprotected whilst in this environment and they feel like they are losing control. Those enduring this affliction are often terrified of being in any form of close contact with others and can become agitated and restless, if they are not removed from the environment a panic attack can develop.
Being in a crowded airport, sitting on a hot and stuffy aeroplane or spending a long time queuing in close proximity to others can all cause these feelings to develop.
Sufferers become flushed, short-tempered and very negative.
Travel Sickness
For those who suffer with travel sickness, the fear of being airsick can cause them to dread the flight immensely. If they have a fear of flying, the thought and the experience of the flight can be too much to bear and cause extremely high levels of anxiety.
If the person can find a successful treatment for their travel sickness, some of the anxiety surrounding the flight may be alleviated.
Turbulence
Turbulence is a normal component of flying and many people are undeterred by the occurrence, for a nervous passenger however, it can raise levels of distress considerably, and even though there may be no turbulence during the flight, the fear of it can cause unnecessary anguish for the person.
Symptoms include nausea, vomiting and feelings of doom. Aerophobic passengers can feel extremely helpless and begin to significantly doubt the pilot's ability, even though travelling through pockets of air is out of his or her control.
Being Dependent On Others
Having to place full trust and faith in the capabilities of the airline and security staff can be a daunting prospect for the nervous passenger, more so if they experience negativity surrounding trust issues already. They often question the training received, experience and capacity of the aircraft, allowing themselves to think deeply about these matters can cause anxiety and severe distress.
Terrorism
In today's society the dangers surrounding terrorism are in the forefront of the minds of many people. Statistically however, the probability of being directly affected by these terrible incidents is minimal and poses no greater risk than travelling on other means of public transport. Travellers should be aware that security measures have been increased and passengers are probably safer now than in previous years.
Lack of Fresh Air
Even though aerophobia can mean to fear fresh air, for a scared traveller, a lack of fresh air, such as in an aeroplane cabin can dramatically increase their potential for becoming restless, irritate and distressed. They may feel unable to breathe properly adding to an already heightened sense of anxiety. This can lead to a panic attack which leads to the person suffering from further shortness of breath and breathing difficulties.
There are many issues surrounding a fear of flying, some people may have unique reasons that add to their phobia. If there is a variety of reasons contributing to the fear, these may have to be tackled individually in order to overcome them fully or learn how to cope with them.
You might also like...