How Many Planes Are There in the Sky?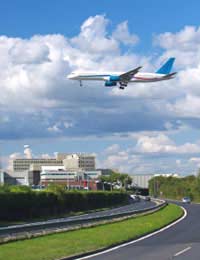 It has been estimated that approximately 46,000 flights are completed every 24 hours. At peak times, there are probably about 5000 commercial aircraft in the air at any one time. Of course, that doesn't include cargo flights nor does it include military aircraft, the latter being closely guarded and classified information.
By calculating the average passenger capacity of modern jets, the above flights equate to about 260,000 people in the air at any one time – the equivalent to the entire population of Iceland!
Somewhere in the world, there is a flight departing or arriving once every 5 seconds!
How are these Flights Controlled?
With such a volume of flights and passenger numbers in the air at any one time, excellent control is vital. Thankfully, aviation is one of the safest modes of transport, with much fewer accidents than trains, ships and cars. One of the reasons for the excellent safety standard is the Ground Delay Program (GDP).
Implemented globally, the GDP system means that pilots are given an Expected Departure Clearance Time (EDCT) at their point of departure. The EDCT is carefully calculated so that aircraft around the world don't converge at a busy airport at the same time. For example, a flight travelling from Charles de Gaulle in Paris, bound for JFK in New York, would be held on the ground until their expected arrival time at JFK didn't clash with other arriving aircraft. Of course, slots for take-off and landing are calculated long before the aircraft is ready to go, and these slots are worked out on a global scale.
One of the most annoying factors when travelling by air is delays due to weather. However, these delays are important for maintaining safety. When weather deteriorates, the amount of traffic an airport can handle every minute reduces significantly. Using the GDP system, aircraft may be held at their point of departure, anything from a few minutes to an hour, so that congestion at their point of arrival will be manageable.
Zones around the World
The entire globe is divided into air traffic zones. These play an important role in monitoring and managing air traffic. For example, in the United States, a flight travelling from the west to east coast may pass through six or seven 'zones', each one having a team of air traffic controllers. Pilots entering or exiting zones have to communicate with air traffic controllers, who will provide instructions to climb or descend to avoid other aircraft.
When instructing pilots, air traffic controllers have to abide by international separation rules. Aircraft flying between ground level and 29000ft, must be separated by at least 1000ft. At altitudes greater than 29000ft, the vertical separation increases to 2000ft. Horizontal separation is also applied, but the rules can be more complicated, depending on the type of radar system in use. Generally, aircraft must not be closer than ten minutes flying time to another aircraft.
Collision Avoidance
Air traffic control is not the only tool that is used to help prevent collisions in the air. Between 1960 and 1985, hundreds of lives were lost due to mid-air collisions. However, the accident that finally brought about a major change occurred in August 1986, when Aeromexico Flight 498 – from Mexico City, bound for Los Angeles – hit a privately owned Piper Archer plane. The commercial jet was descending towards the airfield when the light aircraft flew into its tailplane. The Piper aircraft crashed onto a children's playground, killing 15 people on the ground. The commercial aircraft inverted and crashed seconds later. In total, 82 people were killed.
As a result of the accident described above, international aviation organisations implemented the Traffic Collision Avoidance System (TCAS) into commercial aircraft. Based on radio communication, the system allows onboard radios to identify other radios in the vicinity, thus warning pilots of aircraft nearby. Although there were several fatal accidents after the introduction of the system, refinements since then have made TCAS one of the best methods of avoiding air traffic collisions.
You might also like...