Why Aircraft Engines Don't Fail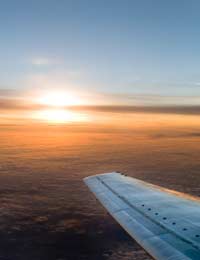 A commercial aircraft usually has at least two jet engines. These are used to produce thrust so that high speeds can be achieved. Jet engines are designed to run very fast, for long periods of time, so designers and engineers go for reliability rather than absolute performance.
How Do They Work?
An aircraft engine consists of three main parts. Firstly, a compressor drives fans at high speed to draw air into the engine compartment. Air mixes with aviation fuel inside the engine and gets ignited. Aviation fuel for jets is often called Jet A1, a fuel with similar properties to diesel. Finally, the ignited fuel produces exhaust gases, which are then forced out the back of the engine, producing thrust for the aircraft.
Main Considerations
Jet engines have to be reliable. They are expected to run for long periods of time at high speed. However, during the cruise part of a flight, engines are usually reduced to about 60% of their total power. This provides the optimum compromise between speed and fuel burn. Thirty years ago it was considered important that passengers get to their destination as fast as possible. However, today the thinking is a little different; travellers prefer economy over journey times, so designers must ensure that fuel-burn is kept as economical as possible. Also, we are now much more aware of the environment, which means that aircraft engines need have good emission reduction features. In the case of modern jet engines, the amount of carbon dioxide produced by air travel per person is actually less than that produced by a typical family car.
Engine Testing
Rigorous procedures are followed for testing jet engines. Even before engines are built they are 'tested' on paper. Special risk assessment exercises are carried out on the design of the engine, these studies are called Hazard and Operability Studies or HAZOPS. These sessions involve a group of experts coming together to go through every part of the design, usually asking 'what if' type questions. All possible scenarios are gone through and engineers come away from these sessions with many modifications to incorporate into their design.
After the designers and engineers are satisfied that their engines are near perfect, prototype development of the engine commences. The test engine is then put into a laboratory for rigorous testing. Flight conditions can be simulated, such as severe weather, strong winds, ice and even bird strikes. Results from these tests are analysed and more modifications are made to the design.
Even the method of fixing the engine to the aircraft wing is tested in the laboratory. Scientists and technicians do everything possible to try and break the engine away from the wing mountings, so that any modifications to the design can be identified.
Test Flights
Finally, the aircraft engine can be tested for real. Test pilots fly the aircraft with its new engines so that numerous in-flight tests can be performed. Once they are satisfied that everything is well, the aircraft is handed over to the commercial pilots for passenger flights.
From complex design studies, to in-flight testing, designers, engineers and pilots perform hundreds of tests to meet stringent aviation regulations to ensure engines are reliable, efficient and, more importantly, will stay in place for many hours of flight.
You might also like...