Using Breathing Techniques for Phobias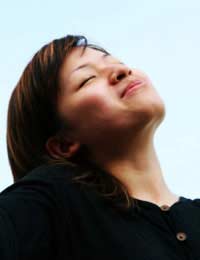 Many people benefit from using deep breathing exercises including those needing a strategy for coping with anxiety.It is a very well known technique recommended by professionals for managing the symptoms of anxiety and panic attacks.
What Is Deep Breathing?
Deep breathing is a method of regaining control of shallow breathing; it uses different muscles to chest breathing and forces the person to focus on and concentrate of employing the correct method of breathing in this way.
As deep breathing encourages longer, slower and more meaningful breaths, normal bodily functions can return to a normal rate including a lowering of respiration rate, a decrease in heart rate and more restrained and considered actions and thoughts.
Why Does It Work?
Using the diaphragm and abdominal muscles, the person learns to encourage breaths to deeply enter the body, instead of using only the chest cavity.
Using recognised techniques which need to be practised, the person is shown a variety of methods of how to achieve deep breathing.
During episodes on anxiety or panic, breathing can become erratic, shallow and rapid, or occasionally the sufferer will hold their breath altogether. These exercises allow the individual to refocus their attention and make positive changes in their body's physiology.
What Are The Exercises?
If the person does not naturally use their diaphragm and abdominal muscles when breathing, they should be taught by a professional as it has to be learned properly in order to achieve the maximum effects.
Placing one hand on the abdomen and one on the chest, the person should focus upon trying to raise the lower hand and not the one on the chest when breathing. Sometimes, total concentration is needed in a quiet and private space, especially in the initial learning stages. This technique can be practised lying down, sitting comfortably or standing up depending on the comfort of the person, their physical capabilities and finding the method that works the best.
Try changing positions until the best result is achieved; some people find kneeling on all fours works in the first instant as this allows for free movement of the abdomen, but the chest cavity is restricted by carrying the weight of the upper body.
Exercises should be practised daily for up to fifteen minutes at a time until they become easily achieved, when the person can then begin the second stage of the process. This involves triggering an anxiety response, either by thoughts or an external stimulus, and then practising the exercises until control has been regained. As progress takes place, the levels of anxiety can be increased until the person can confidently manage their breathing in adverse situations.
Where Can The Exercises Be Learned?
Many therapists and counsellors use deep breathing techniques in their treatments or as a standalone treatment. Self-help techniques can be gained from DVD's, CD's, books or from group therapy sessions, and each person can gauge the benefits themselves. If they feel further or more individual help is needed they can then employ the use of a therapist.
Deep breathing has been used for many years as a method of coping with stress and anxiety. In fact, many people could benefit from these techniques in normal life, for coping with everyday stresses and challenges and to improve physiological functions.
You might also like...