Things to Do When Travelling by Air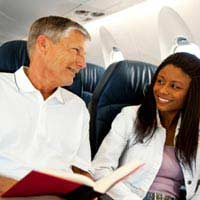 Sitting on an aircraft for hours at a time isn't everyone's idea of fun. However, with a little thought, those hours in the sky can prove quite useful. Here are some ideas.
Read a Book
The most popular way to spend time while travelling by air is to read. The average contemporary novel is about 75000 words and the average person will read about 220 words per minute. In six hours – almost the time it takes to fly from London to New York – that long promised 'must read' book could be achieved.
Read the In-flight magazines
The quality of features in in-flight magazines is now very good. Air Canada's award winning Enroute magazine covers a wide range of articles, from entertainment, food, wine, life-style, celebrities and, of course, travel within Canada. Most airlines have their own magazine, which offer a wealth of information about travel, business and local attractions. Most also include interesting facts about aircraft and some have features written by the crew.
Write a Book!
A 'yet to be published' author was sitting on a long-haul flight from London to Los Angeles. Unknown to her, but sitting in the next seat was the commissioning editor of a London-based publishing company. As she doodled in her notebook, the gentleman asked what she was up to. Explaining that she was working out the personality traits of one her characters – the villain, in fact – the man sat listening quietly for about 15 minutes.
Finally he spilled the beans, confessing to her that he had worked in the publishing industry for over 25 years. At first, the lady was quite embarrassed about the fact she had been ranting on about her unpublished novel. But then things changed. By the time the captain announced 'ten minutes to landing' a book deal had been thrashed out between the pair.
Propose!
On the subject of interesting and life changing outcomes, there is a wonderful story about the young lady who travelled alone from San Diego to Sydney. Quietly reading her book, she was oblivious to the people around her. That is, until the handsome gentleman next to her asked if he could borrow the menu – he didn't have one in the seat pocket.
A conversation about food and wine ensued, which quickly moved on to discussions about many other topics such as theatre, careers, likes and dislikes.
The pair agreed to meet up in Sydney – both were on business for a week – so they could share more of each other's company. After changing his ticket for the return journey, so that he could travel back with his new friend, and before the wheels touched down at San Diego International Airport, he had proposed and she had accepted.
People Watch
Of all the things that can be done to wile away those hours onboard, one of the most fascinating is people watching - is it eavesdropping – no! It is merely taking an interest in the diverse range of interests and opinions expressed by all those who travel.
You might also like...