Facts About Aerophobia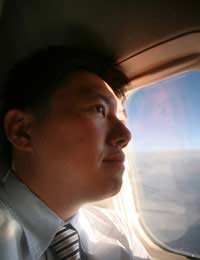 Due to increased air travel more affordable holidays and easier access to other countries, the incidence in aerophobia has increased over the last thirty years. It is a fear of not only flights and flying, but of breezes and fresh air that causes negative symptoms both physically and psychologically.
General Facts About Aerophobia
Sufferers of aerophobia may also experience fears of open spaces, fear of falling and claustrophobia. Any one of these phobias can be extremely debilitating to a person's quality of life and in extreme cases can cause depression to the sufferer and can have a huge impact on their everyday life.
Aerophobia can also be termed aviophobia or aviatophobia, depending on the person and their country of origin. Aerophobia is a designated 'specific' phobia, meaning it has a definite subject matter which can be targeted and treated.
The anxiety encountered by the sufferer can be due to a number of different reasons. These may be past experiences, a lack of knowledge and understanding of flights and aeroplanes or because of a wild imagination that always envisages accidents and disasters; these images are often triggered by newspaper reports, films or stories told by other people.
Some of the main issues that need to be addressed when treating aerophobia are those surrounding control, trust, distortion of thoughts and how to cope with fear and uncertainty.
Sufferers not only fear the flight and experience distress during flying, but also spend much of the time before the flight, sometimes weeks or months, worrying about the forthcoming experience, with thoughts often being largely pre-occupied with the subject and much distress being caused. Whilst this occurs the problem escalates and the intensity of anxiety deepens until the time of boarding the plane when a full panic attack can occur.
Who Does It Affect?
Aerophobia is slightly more prevalent in women than men, and can also be seen in children, though often this is learned behaviour from parents who are sufferers of this disorder.
Up to 1 in 5 people are thought to be sufferers, but this is a difficult number to gauge as many people do not like to disclose theirs fears as they are often seen as signs of weakness and can subject them to ridicule from their peers. This is especially true if someone's job requires a lot of air travel, where this phobia may also cause them to think that their chances of promotion or company success may be hindered.
The people who suffer from this type of phobia will not all experience the same type of anxiety or intensity of symptoms and for those who are seeking treatment to help overcome their fear, wide research of the available options is required to find a method that is specifically suitable to their fears and symptoms encountered.
Treatments Available
There are many treatments available to help overcome a fear of flying and recommended methods include psychotherapy, relaxation skills, counselling, hypnotherapy and courses designed to increase self-esteem and self-confidence.
Many airlines run courses for treating this phobia using a variety of techniques; these are becoming increasingly popular.Sufferers should be aware that although medications can offer relief of the symptoms caused by the phobia, they do not help to solve the problem or understand the roots of how the phobia developed.
Aerophobia can be a debilitating problem for the sufferer and can be caused by a number of reasons. Most therapies seek to address the issues surrounding the problem including discovering the origins of how the phobia came to be.
You might also like...