Fear of Flying Symptoms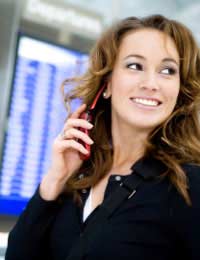 As each person's perception of their phobia and reactions to their phobia are very individual the symptoms experienced are equally individual and may be a combination of a number of common symptoms or be unique to them. Symptoms may be physical, emotional or psychological; most experience a combination of all areas as they are all linked and can influence each other.
Physical Symptoms
Physical symptoms can manifest in many different ways on a variety of levels. This can range from a slightly raised level of anxiety to a full blown panic attack. The following physical indicators can vary dramatically on their intensity and duration.Many sufferers experience changes in their respiration; this can be anything from rapid breathing to holding their breath intentionally or being unable to breathe deeply enough to receive the required amount of oxygen needed by the body.Heart rate may become increased resulting in a racing pulse or obvious and frightening palpitations. In turn this affects blood pressure which may be raised to keep up the demand on the heart and because of reduced oxygen levels; this can result in reddening of the face and the fear caused by these experiences can make the symptoms worse.
Gastric and digestive mobility can become altered leaving the individual constipated, with loose stools or feeling sick. This is especially evident if anxiety is built up gradually and doesn't have an acute onset. Fear can cause the gastro-intestinal tract to become temporarily 'paralysed' leading to these symptoms.
Sweating and fine tremors to the extremities are also very common; these occur due to physiological changes and are a natural response to being scared.
Emotional Symptoms
Issues of trust are very much linked to a person's emotional responses. Being unable to believe in the pilot's ability or the functions of the security staff and systems can cause a person to become very anxious. If a person already has underlying trust issues in their life, either due to relationships or childhood problems, these can cause a healthy concern to manifest itself deeply causing high levels of anxiety. When trust is a major issue the person can cause a self-induced panic or episodes of crying.
Psychological Symptoms
Psychological issues can involve matters of control, an inability to feel they can cope, the fight or flight response and intensity of anxiety experienced.
Many people suffering from aerophobia cannot interpret statistics logically and will only see the very negative aspects of flying. They can not rationalise these thoughts into probability, or do not want to.
Any of these responses can arise at any time and triggers can include: seeing negative flight images on the television, reading negative newspaper reports, booking a flight, discussing flying, arriving at the airport; sights and sounds associated with airports, delays, tannoy announcements, safety presentations or really anything associated with aeroplanes or flying.Many people experience some degree of worry when flying, especially in modern society, but when a person develops a true phobia, many symptoms can occur, most of them very unpleasant and understanding and tolerance by others will be required.
You might also like...