Getting to the Root of Your Flying Fear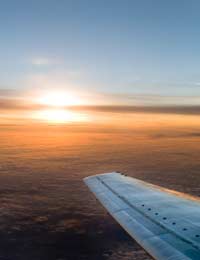 If you suffer from a fear of flying, finding a cure and ridding yourself of this debilitating phobia is all you can think about. You will be familiar with your symptoms and you may have conducted some research into cures and ways of putting your fears to rest.
Have you ever considered that you have missed out a very important step in your rush to banish the phobia? In common with so many sufferers, you might have failed to get to the root of your flying fear.
Why is Uncovering the Root of your Fear so Important?
Before you start to tackle cures for your phobia, uncover the causes. If you can imagine your subconscious mind, it is an overwhelming jumble of anxiety and confusion. It's impossible to pinpoint triggers for the phobia unless you identify the original causes of the anxiety.
If no cause is found and this anxious jumble in your mind is allowed to continue unchecked, the condition becomes self-perpetuating. Not only do the root causes of your fears remain in place but you may find that a fear of your fear makes the whole situation much worse.
Finding the cause of your phobia also helps to eliminate other phobias as the cause of your anxiety. What if your fear of flying is actually a fear of enclosed spaces, claustrophobia, for example?
Most phobias can be traced to a few common roots:-
Inherited Phobia - Some phobias have been linked together through family lines and your individual genetic make-up may be to blame for your phobia.
Social Experiences - certain phobias are generated and maintained by social experiences. For example, in today's world where the threat of terrorism is a more prominent issue, many more people are reporting a serious fear of flying.
Personal experiences can be the root cause of phobic behaviour. Someone who experienced severe turbulence during early childhood could unsurprisingly develop a fear of flying.
Simple Ways to Uncover the Causes of Your Fear of Flying
Clinical psychologists are trained to get to the root cause of phobias and anxiety. It may take many hours of therapy. This can put some people off. It can be expensive and some people feel it's intrusive. If this option isn't for you, there are some simple ideas and exercises that can help you get to the bottom of your emotions about flying.
Mood diaries are incredible tools that pinpoint how you are feeling at any given time. Keep a dedicated notebook with you at all times. Don't think you should only use the notebook when you are about to fly. Anxiety symptoms could be related to your phobia if they are experienced at any time. For example, it's useful to make notes of how you are feeling if you see a film that includes scenes of flying or maybe an aviation-related report on the news.
When you are experiencing the symptoms of your fear of flying, make notes in bullet points. What were you doing? What are you feeling? What are you thinking? When do the symptoms subside? Is there anything you have done differently? Take time to review your notes regularly, look for any patterns or trends in your mood and behaviour. If the triggers for your fear become evident, the root causes will also start to suggest themselves.
Brainstorm your fear of flying. When you are feeling relaxed, take a large sheet of paper and write the word 'flying' in a bubble at the centre of the page. Without thinking, note offshoot thought bubbles of ideas and words that you associate with flying. In the case of someone who is aerophobic, ideas might include words like 'crash' or 'accident' or 'fear' or 'danger'. For every word that you identify in a bubble, keep making bubble words from this until you have thoroughly exhausted the subject. Put the sheet of paper away and ignore it for a few days. Go back to your paper and look closely at all the words, do the bubbles lead into different areas and directions or do they all seem to come back to the same root.
Make an action list of the things you can try to alleviate your fear of flying. Try one of these action points each time you fly. These ideas could include making sure you sit by the window or sit by the aisle, fly alone or fly with company. Each time you try a new approach, make notes about the successes or failures of your trial. Every time you identify an improvement in your anxiety levels, you are one step closer to identifying a cause or trigger for your phobia.
Finding a root for your fear of flying is time wisely invested. It will help to direct you towards the foundations of your fear of flying, only when you start to chip away at these will you hopefully be able to topple your entire phobia.
You might also like...