Taking a 'Fear of Flying' Course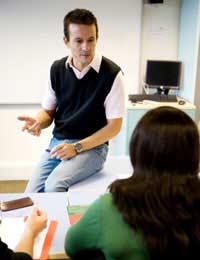 For those who have bitten the bullet and decided to try and overcome their phobia by taking a course, congratulations, you are half way to conquering you fear.
How To Book A Course
Before booking a course there are some considerations that should be examined. It may be that you want top book the nearest course to your home, or perhaps you choose your provider because of recommendation or reputation, or maybe it is the cost that makes the decision for you.It may not matter especially which course you choose as long as you are fully aware of the course content and success rates before parting with any money.
What To Expect
The courses are often run by airlines and the airline staff who have been specifically trained in helping people with a phobia. Often there will be considerable input from therapists or even psychologists who may oversee the course content or be present during the course itself.The courses can be expensive to run so there is likely to be a small group of individuals attending at the same time and many people find this useful as it helps to be in the same situation as fellow sufferers and each person can contribute something to the group and attendees tend top bolster each others confidence (of course it may have a slightly reverse affect as well which should be considered).There are some course providers however that will be able to arrange a one-to-one session if this is specifically requested though it may be more expensive.
Preparing Yourself
Many people who are ready to begin the course will find they are very nervous and may even be having second thoughts. This is totally normal and part of overcoming your anxieties.It is important to remember why you want to beat this phobia and remain focused.This may be helped by writing down exactly why you wanted do the course in the first place; in fact some of the companies that run the courses will request that you bring this information with you.
It may be useful to make sure you know the route to the place where the course is being run as this will not only ensure that you are not late, but will prevent any further anxiety caused by getting lost or being late which can add to your stress levels.Try and get a good nights sleep the night before the course begins so you are fresh and more optimistic on the day.
It is up to the individual whether they disclose the fact that they are attending a course to any of their friends or family but it might be wise to tell at least one person where you are going and how long you are going for.
It also should be noted however that if you do decide to tell your family and friends, you may find that they are extremely supportive and give you the confidence and encouragement to be even more successful.
Most aerophobia courses provide successful results as airlines are now recognising how they can benefit both the ;public and their business and therefore are run by professionals who understand the problems associated with aerophobia and are committed to improving the courses offered using previous candidates evaluations and current research techniques.
You might also like...