Psychological Causes of Aerophobia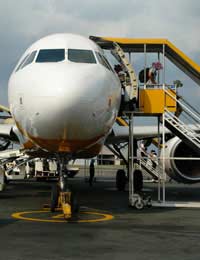 One of the many reasons why someone may develop a fear of flying is because of a psychological cause. Within this wide subject area are various sub-divisions which can be the total cause of, or add to a person developing aerophobia.
Trust Issues.
A large number of aerophobic sufferers state trust as a contributing factor to their fear. They do not know the pilot, airline staff or security staff, or fellow passengers, and are very hesitant about trusting them to ensure a safe flight. This is especially poignant if the person has had problems with trusting relationships in the past, particularly as a small child, more so if very young when development is affected but specific memories and incidents cannot be recalled.
Those with the fear are unsure of the pilot's capabilities, training and social status, especially when the media tells us of pilot's being in an unfit state to be in charge of a plane. The statistics for such events are very minimal, but the negative aspects always seem to be at the forefront of our minds and be more easily remembered than the actual facts.
When seeking professional help for overcoming the phobia, the person must be able to trust their therapist, many were sufferers of aerophobia themselves at one time, and they must believe in the treatment and be at ease with the help the therapist wants to offer.
Control Issues.
For a normally very strong willed and forth right person, relinquishing control to a total stranger is a large step and not one that can be taken easily by some people. To be a passenger on a plane means having belief in the airline staff and being happy to hand over responsibility of the flight to them. Many people have issues with control and cannot achieve this very easily.To be able to enjoy the flight, the passenger must have self-confidence of being able to successfully manage any situation that may arise, such as a delay or turbulence and know that they can cope with these instances should they arise.
Sufferers can regain control of their emotions and reactions by seeking therapy that aims to do this, this way when they next go on a flight they have something to focus on that involves their participation, aiding them in being more content with the capabilities of the staff and aeroplane.
Knowledge and Familiarity
Many people focus on the very negative aspects of flying, remembering only the bad experiences of others; this is not a beneficial attitude to have, as statistics state that flying is actually very safe on the whole. The concept of several tonnes of metal, passengers and luggage being able to maintain its altitude throughout the flight is an incomprehensible idea to many; airlines that run courses for aerophobics teach the attendees of the mechanics and ability of the aeroplanes, explaining how take-off occurs, how height is sustained and how landings are controlled. This helps the sufferers understand the aeroplane more and relieves a little of their hesitance and ignorance.
Fear of being scared is also one of the reasons why people's anxiety grows. If they had a bad experience on their last flight, the fear of being in the same situation again can actually cause the phobia to deepen and can trigger an attack of anxiety or panic.
There are many psychological reasons why someone may be scared of flying, with each person's explanation being unique to them. Therapy will seek to discover these reasons and try to find ways of readdressing them and teaching the individual to cope with them in a more positive manner.
You might also like...