Neuro-linguistic Programming (NLP)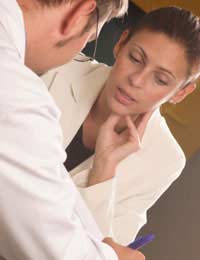 NLP or neuro-linguistic programming is a form of therapy that can be used for dealing with many situations in every day life. It can be used to help cure simple phobias, or as a way of decreasing the intensity of traumatic experiences.
What Is Neuro-Linguistic Programming?
Developed in the 1970's, NLP is a self-help technique that aims to empower the individual and bring about positive changes.One of the fundamental intentions of this therapy is to understand how people think and how these thoughts are interpreted into actions. It teaches individuals to learn how to adapt to a certain environment and always feel they have some degree of control or input into the outcome. It teaches people how to improve their communication and speaking skills and helps people to create strategies for successfully managing challenging situations.
It does this by selecting successful subjects who are leaders in their field, and observes how they act and react to situations. Using these positive actions, the individual who is under-going NLP therapy alters their behaviours adopting the actions of others; it is a form of modelling themselves on people who can cope with challenging environments. Using this technique, negative outcomes, behaviours and beliefs are banished and positive ones are reinforced.
Techniques used in this type of therapy include visualisation, controlled confrontation, imagery and simulation of a certain situation. Often the client is required to imagine they are in a given environment and are taken step by step through the whole scene, making changes where negative behaviour is seen, and by replacing these reactions with those expected from an individual who would manage the situation in a positive way; the person will then mimic these actions until they become the expected reaction.
Does It Work?
Although this type of therapy has faced great criticism from traditional psychologists, it seems there is evidence that suggests it can work well for some individuals.
For those who have tried many methods of over-coming their aerophobia, it may be beneficial to try this if all other therapies have failed.
Who Provides The Therapy?
As some of the techniques used in NLP are quite difficult to master, it is recommended that a therapist is used, although individuals should be aware that active participation is required.
There are plenty of qualified NLP therapists available and a browse through a telephone directory or internet search should provide several names and contact details.
Many of the service providers of NLP recommend a series of sessions, possibly up to 6 sittings, of 1 hour per session, though others offer 'quick-fix' cures and suggest that phobias can be cured in minutes. Always be sure to carry out research on the institution before paying any money to make sure the service provided is suitable for your needs.
NLP is a fairly new technique for teaching individuals how to encourage positive thinking and how to expel negativity. As it can be applied to any area of every day life, it can prove to be very beneficial in allowing the individual access to the tools needed for achieving overall success.
You might also like...