Relaxation Therapy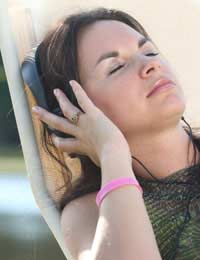 Learning how to relax properly is something that many people in today's busy society could benefit from. It has several advantages for both physical and psychological health.
Aims of Relaxation
The overall aim of relaxation is to de-stress the body and mind. It is important for health to learn how to live without distress and worry and is a particularly good means of relieving anxiety hence why it is recommended to those suffering from psychological disorders. Many people whom live with constant anxiety do not know how to relax and can find trying to relax a stressful experience as they continue to worry about the time wasted or do not have the skills to free their mind of all thoughts and their body of all tension.
Physical Aims
There is a wide variety of reasons why relaxation is beneficial to health. Heart rate, blood pressure, respiration rate and metabolic rate will all become regulated and probably lowered; this in turn will have several advantageous qualities on the body and will help to maintain good function of the bodily systems, possibly lengthening life and improving the quality of health.
Muscular tension will be lowered so skin and tissues will not age so prematurely, sleep patterns will improve as will the quality of sleep gained, again providing many benefits concerning health.
Psychological Goals
Whilst many of the physical attributes of relaxation therapy will have a positive impact on psychological health, the person will also experience an improvement on their overall outlook on life and will learn how to enjoy life. Memory, concentration and confidence will all be improved, possibly due to the increase in cardiac output and oxygen usage in the body.
The person will feel as though they have more involvement in situations that otherwise would seem out of their control, they will feel more able to cope with challenging situations and will feel they have more overall control of their life.
Methods of Relaxation
There are lots of approved ways of relaxing, some involve learning new techniques, others require an outside source; some people may have their own methods of relaxing that would seem strange to others.
Meditation, muscular tension relief, yoga, deep breathing and massage are all very good techniques to learn to be able to relax properly. Many of these techniques can be called upon when needed to offer relief or serve as a coping mechanism when situations become very challenging or cause a rise in anxiety.
Where and When Can Relaxation Take Place
It is recommended that whatever methods the individual has selected as the preferred technique, that where possible, it is practised at the same time every day in the same place.
Relaxation should take place in a quiet location where there are no distractions. The position or furniture should be very comfortable and the room should be of a very comfortable an unvarying temperature. Loose clothing should be worn so as not to restrict breathing or positions, and some people find they benefit from having some soothing music in the background.
Relaxation should become part of the every day routine and people should make sure they have enough time in their schedule to allow for a proper relaxation session.
Relaxation, and many of the techniques used today, have been relied upon for hundreds of years. It is an important feature that should be included into everyday life in order to improve general health and also act as a way of managing stressful situations.
You might also like...