Alternatives to Flying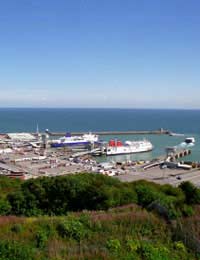 If your phobia is unmanageable or treatments do not have appeared to work, there are a number of ways you can still enjoy travelling without being forced onto an aeroplane.
Holidays
Britain and Europe are becoming much more accessible in today's society with transport links being created and upgraded all the time.
The Highlands of Scotland are beautifully picturesque and rival some of the world's other beauty spots in its sheer vastness and magnificence. For a beach holiday, why not speak to your travel agent about the type of holiday you are looking for, they are sure to be able to find you something suitable without needing to board a plane.
Ferry links can take you into Europe where a car can be hired, trains or coaches can take you to many of the European countries, allowing you the time to soak up the scenery, make friends and see more of what the countries have to offer; this is something that air travel passengers do not have the luxury of.
Likewise, the channel tunnel can offer a fast and easy route in to Europe, again permitting you the option of seeing the countryside at its finest.
Aerophobia does not mean you are limited with spending all of your holidays sitting on a motorway in the rain, with a little bit of creativity and planning, some of the best holidays can be had without ever needing to consider travelling by air.
Employment
Many people are finding that episodes of travel are becoming part of their job. If however, it was not in your original job description, this can be discussed with your employer. Many training courses require the employee to travel by air, but ask whether other forms of attendance can be facilitated such as via a video link, the information sent by email or as a DVD. If your employer is definite about you needing to travel, ask for time off to seek treatment or therapy well in advance. If this is declined seek advice about your rights from either your union, human resources department or from the Citizen's Advice Bureau.
It is obvious that for someone with aerophobia, choosing a career that requires frequent air travel is probably not the best option and will almost definitely cause problems in the future, so think carefully about career choices, or be creative and try and discover ways of fulfilling the job requirements without needing to fly; some employers will be impressed with your creative skills.
Family
If travelling by air is needed to see family or friends and flying is definitely not an option, why not offer to help with the finances allowing them to visit you more frequently? Alternatively, you could suggest meeting them elsewhere in Britain, so that you are both enjoying a holiday somewhere new without causing disappointment or distress caused by flying.
The internet, email and webcams have allowed long distance relationships to thrive in modern society, and communication links are increasingly becoming easier and more accessible so that it is possible to speak to friends or family everyday, see them on the computer monitor, share video clips, photos or other forms of media on a regular basis. Travel is no longer necessary for keeping in touch with people.
Aerophobia can be a very debilitating disorder, but with therapies being developed and adapted all the time, there are now more options for treatment than ever for sufferers. If however, none of these options are successful, it does not have to mean that all activities requiring travel have to stop, just that a little more consideration and planning may be needed. It should be remembered though, that travelling by road, sea or rail can offer a much more visual experience for the travellers and allow for more interaction with other people.
You might also like...
My friend is getting married in New Zealand in December and I am in Vancouver. I have a fear of flying and I want to either take a cruise ship or a freighter but I can't seem to find anything. I don't want to hear "just fly" because it's still some time away and I'll make that decision if I have to, but for now I'm looking at boats. Any suggestions?
dyle
- 10-May-11 @ 7:31 AM