Anxiety Medication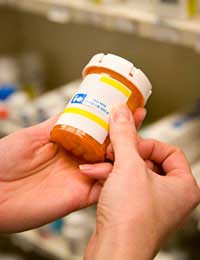 For those people whom are suffering from anxiety and distress caused by a fear or phobia such as aerophobia there are many treatment options available. Many of these therapies however take a while to arrange and can take weeks or months before any beneficial effects are experienced; for the person who must take a flight in the near future, medication may be one of the few immediate options available.
Aims of Anxiety Medications
There is a large selection of drugs available to help reduce stress and anxiety, all affecting the physiological state in differing ways, therefore with slightly different aims and outcomes. The overall purpose is to decrease the amount of mental angst suffered by the user along with a reduction in physical symptoms that occur when anxiety is experienced.
They may not reduce all of the anxiety felt by the user, but each person should receive some benefits from their usage.Anxiety medications are not to be thought of as a long-term treatment option and are best used to manage the immediate problems caused by the phobia, reducing anguish enough for the sufferer to begin to explore other treatment options.
How Do Anxiety Medications Work?
As with all medicines, this group of drugs will only work to their full potential if the client is open and honest with their prescribing GP, especially concerning past medical history, any past or existing drug or substance use or abuse, the expected and realistic expectations of the drug and whether they are working and to what level once the prescription has been given.Most of the drugs in this group work on changing chemical reactions and balances in the brain, altering chemical pathways, interrupting messages in the nervous system and by regulating the functions of the body. This, in turn, will help the person feel more relaxed, more able to cope and they should also feel a reduction in the amount and intensity of the physical symptoms of anxiety such as palpitations, breathlessness and nausea.
Types Of Medications Used To Treat Anxiety.
Anti-anxiety medications are made up of drugs from a number of different groups. One of these groups is anti-depressants, of which there are three main sub-groups; Tricyclic anti-depressants, Selective-Serotonin Re-uptake Inhibitors (SSRI's) and Monoamine Oxidase Inhibitors (MAOI's). The physician may select one drug from one of these groups depending on the symptoms, existing medications taken and general health of the person.
Other types of medication given for anxiety are tranquillisers (Benzodiazepines), anti-convulsants and beta-blockers.All medications used in the treatment of anxiety are very powerful drugs and should be used in the correct manner. Never share medications with others, always follow the instructions, never exceed the maximum recommended dose and do not suddenly discontinue use without discussion with the GP unless severe allergic reaction is suspected.
All medications carry side-effects and each person should be made aware of any potential effects when the prescription is offered. If side-effects are intensely experienced and are producing extremely unpleasant consequences, discuss changing to another type of medication with the GP.
Medications can be used as a way of being able to manage the immediately unpleasant effects of a phobia, but their long-term use should be discouraged. They should be used as a way of stabilising the person enough for them to be able to confidently explore other treatment and therapy options.
You might also like...
Please help I'm absolutely terrified of flying and I go away in two wks , I really don't know how I'm going to cope I have tryed diazepam in the past but it doesn't work anymore I have a little boy and I really don't want to freak out in front of him any advice would be great thank you
Ali
- 11-Apr-19 @ 7:33 PM