Cognitive Behavioural Therapy and Phobias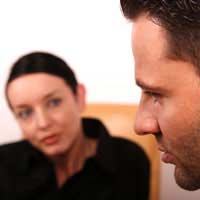 Cognitive behavioural therapy was developed in the 1970's and is based on a problem solving technique combining cognitive and behavioural therapies. It is a very widely used method that seems to achieve fairly high success rates and is recommended by many specialists in the field of phobia and anxiety treatments.
What Is Cognitive Behavioural Therapy?
Specialists discovered that when a person is confronted with fear, a fearful situation or a highly stressful environment, they experience changes in their nervous system that causes the fight or flight response. An irrational fear can produce the same responses, even if danger and likelihood is very low. Cognitive behavioural therapy uses this knowledge to help sufferers of phobias remove anxiety and manage the situation realistically. This method identifies and amends flaws in a persons thinking processes that cause the irrational fears, by 'correcting' reactions in emotions and behaviours leaving the person able to cope with the situation in a rational manner. It helps to reduce or remove distorted thoughts that phobias cause. The ultimate aim of cognitive behavioural therapy is to understand thought patterns, alter management of certain situations and change attitudes and beliefs associated with the phobia.
This type of therapy requires the therapist and sufferer to unite as a team working together to determine goals and outcomes. The therapist will help the person identify situations, what they think about them and how they react to them, challenging the person to adopt more positive reactions and beliefs, and not automatically finding a negative thought for each situation. They will then aid the sufferer in learning more flexible and productive ways of interpreting and managing the situation until they can confidently approach the situation with distress and in a more realistic manner.
The sufferer will play an active role in the treatment and will be required to keep a record of their progress, possibly a diary, and will need to outline targets, evaluate the success of the treatment as it progresses and determine the content of each session.
Cognitive behavioural therapy is often used in conjunction with other therapies, particularly systemic desensitisation, relaxation practices and medications.
Who Performs The Therapy?
Usually a psychotherapist or psychiatrist will assist the sufferer in achieving the goals, though increasing numbers of mental health nurses and counsellors are becoming trained in the technique, and will normally require the sufferer to attend a clinic or office to receive the therapy. Always ensure the therapist is reputable and fully qualified.
Rates of sessions will vary depending on qualifications, experience and success rates.
It may be possible to gain a referral from a GP though this option is not available for everyone and some research may be needed to seek a qualified therapist.
Cognitive behavioural therapy can be performed on a one-to-one basis or as a group therapy; this option may be slightly less expensive. Sessions will normally last for around an hour and regular attendance will be required to achieve the best results.Cognitive behavioural therapy is a very useful and productive method that aims to reduce negativity and replace it with rational and positive thoughts and reactions.
You might also like...