Using Self-Hypnosis to Reduce Fear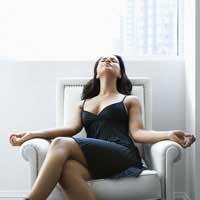 What Is Self-Hypnosis?
Like traditional hypnosis this serves as a method of learning and practicing relaxation and deep breathing techniques. When this is achieved, positive thought reinforcement takes places, and any negative or detrimental thought processes addressed and managed.
During hypnosis, a state of relaxation is induced, during which the person will be more able to comply with suggestive reasoning. Concentration is heightened and the person's whole focus can be on whatever it is that they have chosen to tackle. The subject trains their sub-conscious mind to readdress existing behaviours, responses and beliefs.
Self-hypnosis is very beneficial for psychological disorders such as overcoming phobias, addictions, bad habits or as a way of becoming more assertive and confident. It is a lot less expensive than therapist led hypnosis and can be done in a private and familiar environment.
How Is Self-Hypnosis Achieved?
Before learning the technique of self-hypnosis, write down the specific goals that want to be accomplished. Try and be specific and break down large tasks into smaller more manageable items. Arrange these goals into an order or achievability.
Using books, CD's or DVD's as a learning tool, the person is taught how to achieve the level of relaxation and concentration needed using just some or all of the following: breathing techniques, counting, positive mental imagery and visualisation. Repetitious verbalisations are often used to reinforce positively and help to alter attitudes and beliefs that add to the phobia. Once relaxation is achieved, decisions may seem more simple to address and clarity is added to the situation.
The tools used are normally designed, written and endorsed by professional therapists who have adapted the techniques used in a clinic to be used at home to achieve a hypnotic state.
Trusting and believing in the hypnotherapy will ensure the best results, though if the first method used does not satisfy, try a selection of techniques until the desired effect is reached.
Self-hypnosis takes practise and will need to be regularly exercised in order to achieve the best results. The person must be patient and take it one step at a time, especially if there are many contributing factors to their phobia. Results will not necessarily be seen straight away.
As relaxation and breathing become easier, sleep patterns will improve and everyday stresses of normal life will seem easier to cope with, showing many of the benefits of using self-hypnosis.
The Environment
In order to achieve a state of self-hypnosis, the individual must ensure that they are not going to be disturbed. This may mean altering their family schedule or usual routines. The room should be of a comfortable temperature and should be quiet and a room associated with relaxation.
As competence grows, the practices can take place anywhere, such as in the airport departure lounge or whilst onboard the aeroplane.
Self-hypnosis is not a 'cure' for a phobia or a problem, but a way of managing the anxiety and worry that accompanies it. It is a tool to be used as a coping mechanism and will require practise. In time the individual will find ways of reducing the importance of their phobia and managing the symptoms experienced.
You might also like...