Travelling Safely with Children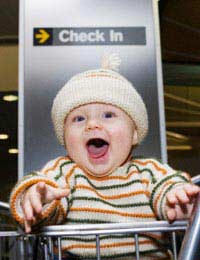 The thought of travelling when there is an apparent fear of flying that may present in mild anxieties or may cause great physical reactions can be a very daunting prospect for the traveller and this may be increased when travelling with children. There are many reasons why travelling with children may cause a greater fear to manifest and these reasons may range from worrying about their safety to the additional stress and pressure children can cause. It is important to recognise that travelling with children, especially when flying, can often be more stressful and it is equally important to try and avoid these stresses from escalating and adding to a negative experience.
Why Does Travelling With Children Cause More Anxiety?
There are several possible answers to this question. It may be that you are worried about their safety at the airport or during the flight or that you are unsure how you will cope if there are delays or problems at the airport. Explain your fears to the airline staff and they may be able to help entertain your children or allow you earlier booking aiming to avoid crowded situations and long queues.
Strategies To Implement To Ensure A Safe And Comfortable Flight
There are many things that can be done to try and eliminate some of the stress when travelling with children.Always make sure they have some form of entertainment to occupy them in case of delays or long flights. Often music sources, cards, books or travel games will be sufficient. When or if these are not try and invent some games that can be enjoyed by the whole party using the environment around you. Make sure you have enough money to buy fluids and snacks as hungry children can be more demanding. If finances are tight remember to pack some form of snack or beverage but remember these must now be consumed before you go through to the departure lounge due to security measures.If your child takes medications or has any medical problems, be sure to inform your travel agent, insurance company and the airline so that adequate provisions can be made.
Avoid Passing Your Fear To Your Children
It may be easy to pass on your own phobias and fears to your children by expressing your anxiety in front of them but this will only fuel the chance of them developing a problem. Try and remain positive and enthusiastic even if you don't really feel very positive inside. Most people find they have a shorter temper when they are agitated or worried but try and relax and not let your inner feelings influence your children, though it is important to explain to them the dangers and hazards that can be found at an airport and that their safety is the most important issue.Encourage your children to enjoy the airport experience and look forward to the flight, this way they will remain occupied and be in more positive moods and hopefully will not be as demanding as they might be if they are also uncomfortable with flying.
Those who suffer from a fear of flying will understand how stressful taking a flight can be and also how this experience may be affected by the thought of travelling with young children. These issues can be addressed by ensuring that forward planning is undertaken and that the airline and airport staff are aware that you may be struggling and may be able to offer assistance if staffing levels permit.
You might also like...