Avoiding Queues and Crowds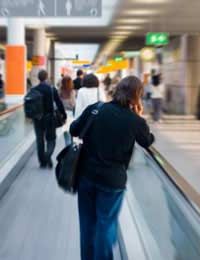 It is not only those who have a fear of flying who might be affected by long queues and lots of waiting around as these experiences can agitate even the most placid of people sometimes, but it can add to anxiety and cause a lot of distress for the anxious flyer and result in the flight becoming another negative experience and add to their existing fear of flying and airports.
Why Queues Are Likely To Develop
The most common reason for a queue to develop is during check-in time, particularly concerning international travel, as this is the time allocation that requires almost all passengers to check themselves onto the flight and add their luggage to the aeroplane.These queues often move quite quickly but can appear deceiving as initially they may be very long even if they do reduce fairly quickly.
Other reasons for queues may be problems with the aviation equipment of fuel which obviously must be sorted before anyone is permitted to take their seat on the flight. These problems occur frequently and do not mean that the flight is unsafe but, much like a car, needs regular checks to make sure it is safe and not simply assumed to be.Some people take comfort in the fact that these problems are found as it shows that the staff are performing regular checks on the equipment and acting accordingly.Another very common reason for a delay or a long queue is when the weather is too hazardous to allow for the allocated take-off time to be used. It may not be that the weather is bad around the airport where you are taking off from as it may be at your arrival airport where the problem has occurred. These instances cannot be avoided and delays may occur to ensure passenger safety at all times.
How To Avoid Queues
It is very important to inform staff of your phobia when booking your flight as this information can be passed directly to the airport staff who will try and make adequate provisions aiming to reduce your waiting time and prevent unnecessary anxiety from developing.They may allow you an earlier check in to make sure you are booked on before the bulk of the passengers arrive and in some instances may allow you earlier passage onto the aircraft so your can find your allocated seat before the other passengers embark.
It may also be possible to allow you to pass through security at an earlier time as often queues can develop around the security check points as thorough checks are made; again these queues only prove that the airline and security staff are carrying out their jobs properly and do not mean that there has been a problem with security.
Most airlines will try to ensure you have a comfortable flight and enjoy the experience so if they are aware that you have an existing fear will try and make allowances and exceptions in an attempt to prevent these fears from escalating. In order for them to do this they must be aware of the problem at an early stage and this can often be accomplished by either informing your booking agent, or communicating with the airport personnel in advance of your flight seeking advice on what measures can be taken to ensure that you are not in position that may cause you to have a very negative experience.
You might also like...